Heiko Wolfgang Nauth | Reader of German Language and Literature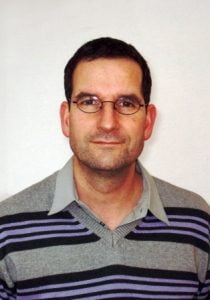 Education: MA German Language studies at Johann Wolfgang Goethe-Universität in Frankfurt am Main 1997, PhD studies in progress, Banja Luka.
Phone: + 387 51 34 01 26
heiko.nauth@flf.unibl.org
Office hours: Thursday 5.00 – 6.00 PM
Office No. 19
Interests: didactic literature, teaching methods and strategies, WWI literature, literature of exile 1933-1945, national socialism of the Third Reich, literary adaptations, contemporary literature, media, documentaries, audio books, exhibitions.
Selected works:
Die theoretische und praktische Auseinandersetzung von Nähe und Distanz im Unterricht innerhalb der universitären DaF-Lehrerausbildung – Damit Nähe und Distanz zu keiner Gratwanderung werden (2017); Der Erste Weltkrieg in der deutschen Literatur am Beispiel Erich Maria Remarques Roman Im Westen nichts Neues – Eine Didaktisierung für den DaF-Unterricht an der Universität sowie den DaF-Oberstufenunterricht an der Schule (2016); Visuelle Mittel und Methoden im und für den DaF-Unterricht. Bilder als Bausteine im DaF-Unterricht für Schule, Universität sowie die theoretische und praktische DaF-LehrerInnen-Ausbildung (2013); Über Gefühlswelten und Emotionalität: Literaturstrategien näher bringen (2012).
Class list:
Contemporary German Language 1
Contemporary German Language 2
Contemporary German Language 3
Contemporary German Language 4
Regional Studies of Germany