Emir Muhić | Assistant Professor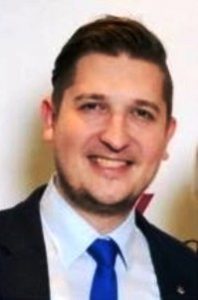 Education: B.A. 2007 Banja Luka,
M.Phil. 2010 Banja Luka, Ph.D. 2016 Belgrade
Phone: + 387 51 34 01 35
emir.muhic@flf.unibl.org
Office hours: Tuesday, 16.00-17.00
Office No. 6
Interests: cognitive linguistics, phonetics, phonology, interdisciplinary linguistic domains
Selected works:
Dalibor Kesić and Emir Muhić. (2015). Concomitant Tutelage Disparities. In Akbarov, A. (ed.) The Practice of Foreign Language Teaching (2015), Newcastle-upon-Tyne: Cambridge Scholars Publishing. str. 116-167
Емир Мухић и Далибор Кесић. (2015). Мултидимензионалне парадигме у лингвистици. Српски језикXIX. стр. 657-673.
Emir Muhić. (2013). Conceptual Scenarios in Contemporary American Political Discourse: (Not) Going It Alone. In Akbarov A. And D. Larsen-Freeman (eds.). Applying Intercultural Linguistic Competence to Foreign Language Teaching and Learning. Sarajevo: IBU Publications. str. 611-618.
Емир Мухић. (2011). Теоријска схватања дискурса. Знакови и поруке (4/1).
Emir Muhić. (2009). Hybridity in Prospective Non-Native Speakers of English. Знакови и поруке: часопис из комуникологије.
Class list:
English Language Morphosyntax 2
English Phonology
Conceptual Approaches to Meaning
Anglophone Culture
English Pronunciation in Everyday Speech
Cognitive Linguistics